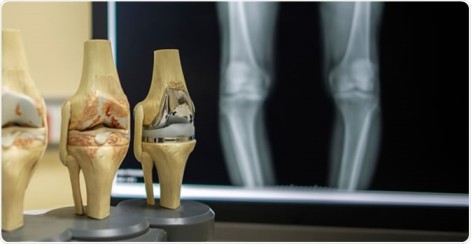 Knee Replacement Hospital in Ahmedabad
One of the most successful and recommended surgeries with the least chances of failure is knee replacement surgery. People with knee disabilities have reported 95% of relief after surgery and their ease to get back to work after that. Once physiotherapy, walking aids and other medications fail, a knee surgery is likely to be recommended by a doctor. A knee replacement surgery is considered to be safe and effective.
Knee Pain: To treat knee pain, there are several treatment options to get it fixed. Before getting a knee replacement surgery, earlier interventions and several other procedures are tried out to restore knee functions and reduce pain.
Heat/Cold Therapy: To treat inflammation and swelling, cold packs can be really helpful. Even heat helps the muscles to relax and let blood circulate smoothly.
Low impact exercise: Joint and muscle exercises help a lot in increasing strength and improving flexibility.
Weight loss: This helps to ease pain by reducing the amount of stress on the joints.
Medications: Aspirin-free pain relievers, anti-inflammatory drugs, corticosteroids, disease-modifying drugs are some of the most common medications used to treat knee pain.
Knee injections: Patients whose osteoarthritis knee pain does not respond to medications such as non-steroidal anti-inflammatory drugs (NSAIDs) or simple pain relievers such as acetaminophen , corticosteroid, or hyaluronic injections are used.
When all of these processes fail to work, a knee replacement surgery is put to use to treat the adversities. During this procedure, the knee replacement surgeon replaces the damaged portions of the knee with artificial parts. These parts consist of a metal femoral component, a metal tibial component, and a plastic spacer. A small plastic patellar component may also be used instead.
How successful is knee replacement?
Knee replacement is recognized as one of the most successful procedures in all of medicine. In India, over 6,00,000 people have their knees replaced each year, and a recent panel of independent experts determined that ninety-five percent of those opting for knee replacement reported "fast pain relief, improved mobility, and better quality of life."
Knee Replacement Surgery Procedure:
In most of the total knee replacement operations, the joint surface at the end of the thigh bone (femur) and the joint surface at the top of your shin bone (tibia) is replaced with a plastic spacer in between the two.
Sometimes, a total knee replacement surgery may also involve replacing the under-surface of the kneecap (patella) with a smooth plastic dome. Some surgeons often prefer to preserve the natural patella if possible, but the decision depends on the condition during the operation.
The new parts are normally cemented in place.
Another common technique that is often used is the usage of a mobile plastic bearing which isn't firmly fixed to the metal parts. This often helps to reduce the wearing on the new joints, however, this has been reported to not bring such long-term results.
To perform a knee replacement begins with a spinal anesthesia that makes the lower portion of the body numb. Then the operation is carried out within 15 to 30 minutes, depending upon the condition of the joint. Patients are fully awake during surgery with no pain in their legs. Generally, after surgery, people stay for a period of two or three nights to deal with the discomfort but with the influx of modern amenities and better medications, discharges often happen at a shorter period.
Dr. Dhaval Patel who had been trained in Orthopaedic from Bangalore did a fellowship in joint replacement from France ( Europe ) under the guidance of one of the renowned doctors of the world and has also worked with leading orthopedic surgeons of Ahmedabad highlighted the advantages of advanced NIL technique( concluded from National, International, and Local experts' techniques) :
Pre decided standard protocols for each patient to make surgery smoother and faster
Preparation before the operation as per international guidelines
Shorter duration of operation (less than 30 mins)
Minimal damage to soft tissue during surgery so less pain postoperatively
Near to zero chance of infection
Early mobilization so that patients can walk on the same day, can go to the toilet the next day, and climb the staircase the day after.